Werle & Rushe Agency is proud to join a select group of agencies honored by Erie Insurance with the 2018 Bronze Life Recognition Award. We are honored to be recognized as a top Life Insurance Producer in Pennsylvania.
"Receiving this award is an honor and we believe that it is proof of our commitment to providing our customers with the best Life Insurance coverage possible," said Don Werle and John Rushe, Agency Owners.
Werle & Rushe Agency offers a full line of Personal Insurance products, as well as Commercial and Life Insurance products from Erie Insurance. Contact us to discuss your insurance needs.
We are very proud to receive this award and want to give a big THANK YOU to our customers; our Life Sales Manager, Rachel Allburn; and Lisa Rodgers, our District Sales Manager. We would not have been recognized without YOU!
For a Life Insurance Quote, please visit our website at http://www.wrins.com/life-insurance or give us a call at (814) 836-9077.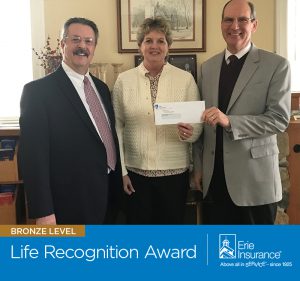 Pictured left to right: Don Werle, Agency Owner; Lisa Rodgers, District Sales Manager, Pennsylvania; and John Rushe, Agency Owner.